You are using an outdated browser. Please upgrade your browser to improve your experience and security.
#48284

Listing Number

$155,303

Listing Price

$12,058

Monthly Revenue

$5,355

Monthly Net Profit

12 Months

Pricing Period

29x

Multiple
Listing Summary
This listing is for a dropshipping business created in November 2018 in the occasions & gifts niche. The WooCommerce store sells a custom gift that comes in a variety of shapes and scents, which went viral on TikTok earlier this year resulting in a sellout. The business has grown considerably in traffic and earnings this year and requires minimal work from the Seller to maintain.
The site receives traffic from organic search (~37%), direct (~37%), and paid ads (~21%). This traffic originates in the US (~94%), CA (~3%), and AU (~1%). There was a spike in traffic and revenue in June due to an unaffiliated video about the product going viral on TikTok.
Two outsourced workers currently work on the business, though one VA who mainly handles orders will be included in the sale of this business. More details can be provided to active buyers.
The Seller owns another site in the same niche which sells bulk orders only of the same product and has a different customer base. The Seller is not unwilling to include this site in the sale. They would like to continue referring business to a new owner by charging them 10% of the transaction referral fee.
The Seller also owns another domain that does drive traffic to the site for sale in this listing and they are willing to keep these links in place for a 1-year minimum, but are open to negotiating for longer. Both of these sites contribute less than 5% of the site's total traffic. More details can be provided to active buyers.
The Seller has been running Google ads since December 2018 so there is data for a Buyer to build on the advertising success. Also, with the successes of the viral TikTok video, there's an indication that driving traffic from social media could also be a growth opportunity for a buyer to consider.
**Learn more about this listing by scrolling down to the FAQ section**
Business Created
November, 2018 - (1 years 11 months old)
Assets Included in the Sale
Included in the sale of this business are:
Domain including all site content and files
2 additional domains (used as 301 redirects)
Email list (9230 subscribers)
Social media accounts (Facebook, Instagram, TikTok)
SOPs
Employee contracts
Supplier contracts/relationships
Seller Interview Video
A Useful Insight Into the Business
Earnings
Last Month
6 Months
12 Months
All time
Traffic
Last Month
6 Months
12 Months
All time
Analytical Data
Provided by ahrefs
Opportunities
Growing social media presence
Enhancing CRO on website with exit pop-up surveys
Monetizing the email list
Risks
Google algorithmic changes could cause traffic to fluctuate.
Supplier/factory changing terms of agreement or unable to produce product to meet demand
Work & Skills Required
The Seller currently spends around 2 hours per week:
Managing finances
Managing ads
Updating website
Social Media Channels
Seller Support Includes
The Seller is willing to offer 4 Skype calls and 30 days of email support to ensure a smooth transition of the sale. This is double the amount of Skype support usually offered by Sellers.
Reason for Sale
The Seller would like to focus on other opportunities.
Other Information
Work Required Per Week: 2 Hours
Private Blog Network (PBN): No
Domain Type: .com
Platform: Other
Buyer Profiles
Flipper Fred
Ideal for buying and then selling on quickly after growing the business.
Frequently Asked Questions
Answered by the Seller
Recommended Businesses
Based on similar listing criteria
Affiliate,Amazon Associates
Affiliate,Amazon Associates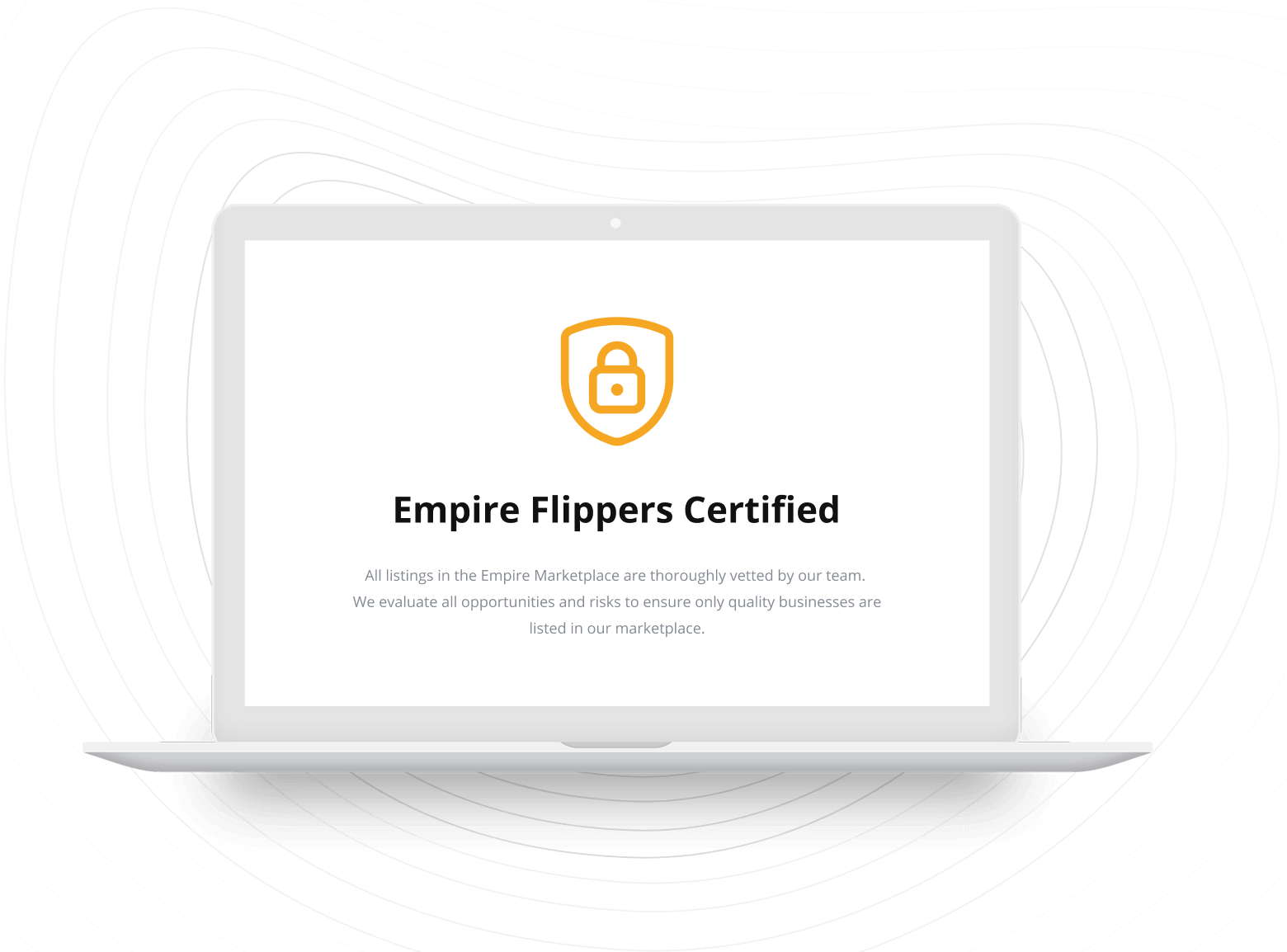 Want to Know When New
Businesses Are For Sale?
Sign up below to get notifications when new listings are available on the Empire Marketplace