You are using an outdated browser. Please upgrade your browser to improve your experience and security.
#47489

Listing Number

$392,330

Listing Price

$8,693

Monthly Revenue

$8,529

Monthly Net Profit

12 Months

Pricing Period

46x

Multiple
Listing Summary
This listing is for an application package of 17 Apple apps created in December 2016 in the gaming niche. The package includes 1 paid app and 16 free applications that cover a broad range of gaming categories. The business has had a steady growth in revenue over the last 3-years with significant growth and app downloads year-on-year and month-on-month. Thanks to a developer handling maintenance of the apps, minimal work is required from the Seller to maintain the business.
Together there have been about 950k total downloads across all 17 apps, with about 18k downloads of the paid app. The paid app monthly installation average from the last three months is 1800 users and the free apps monthly installation average from the last three months is 39k. Sales are mainly from the US, followed by Canda, UK, Australia, UAE, and Singapore respectively.
The Seller doesn't actively work on the business unless an app requires an update, which has historically been once or twice a year. Working on updates takes about 20 hours each session for the developer and the current developer is willing to continue on with the Buyer.
The apps are spread across 3 separate accounts (two of them under the Seller's brothers' names), all of which they operate. The Seller is willing to transfer all 3 accounts or just the applications depending on the Buyer's needs.
The business has not done any paid marketing, so all traffic comes organically. The Seller acquires customers through fresh app store optimizations, targeting new keywords, or cross-promotion between existing apps.
The primary app is in top paid charts in many countries. There is growth opportunity for the buyer to expand by running campaigns to get more sales and use current apps for cross-promotion of new applications. More information will be provided to active Buyers.
Business Created
December, 2016 - (3 years 9 months old)
Assets Included in the Sale
Included in the sale of this business are:
Three application accounts (should the Buyer choose to have these)
17 apps - 1 paid app + in-app sales and 16 free apps with ads
Seller Interview Video
A Useful Insight Into the Business
Earnings
Last Month
6 Months
12 Months
All time
Traffic
Last Month
6 Months
12 Months
All time
Analytical Data
Provided by ahrefs
Opportunities
Running ad campaigns to get more sales
Adding features within existing apps
Cross-promoting within existing apps or to promote new apps
Risks
Fluctuations in rankings can impact traffic to the business.
Work & Skills Required
The Seller currently spends around 1 hour per week:
Updating apps 1-2 times a year with the help of a developer
Monitoring app performance
Researching and targeting new keywords
Social Media Channels
Seller Support Includes
The Seller is willing to offer 30 days of email support and 2 Skype calls to ease the transition of the business to the Buyer.
Reason for Sale
The Seller would like to focus on other opportunities.
Other Information
Work Required Per Week: 1 Hour
Private Blog Network (PBN): No
Domain Type: .com
Platform: Other
Buyer Profiles
Lifestyle Larry
Excellent for those looking to live a lifestyle of ones choice.
Strategic Sally
Favorable for supporting an already existing business in a similar niche.
Portfolio Paul
Great for someone looking to diversify their portfolio.
Frequently Asked Questions
Answered by the Seller
Recommended Businesses
Based on similar listing criteria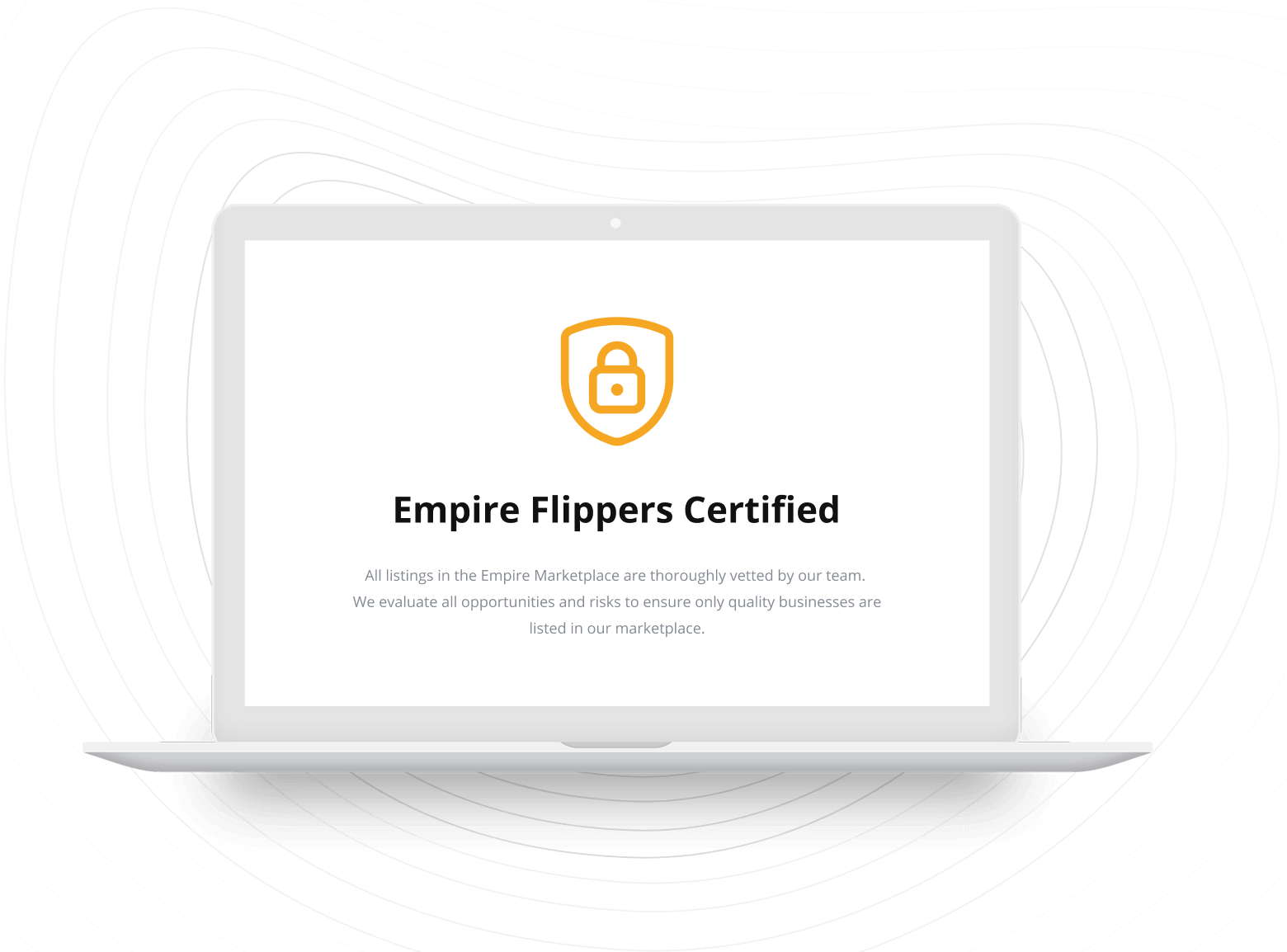 Want to Know When New
Businesses Are For Sale?
Sign up below to get notifications when new listings are available on the Empire Marketplace