You're using an outdated browser. Please upgrade your browser to improve your experience and security.
#47180

Listing Number

$1,327,715

Listing Price

$73,106

Monthly Revenue

$44,257

Monthly Net Profit

12 Months

Pricing Period

30x

Multiple
Listing Summary
This listing is for an Amazon KDP business created in January 2017 in the romance niche. The included Amazon KDP account features 50 ebooks and 40 physical copy books related to romance and fiction. Thanks to a team of 5 ghostwriters, 3 translators, 2 editors, 2 virtual assistants, and 1 cover designer the Seller currently spends 12 hours per week maintaining the business.
As mentioned above, the Seller has a large team covering all aspects of the business in terms of required tasks to produce, edit, and publish all new content publishing two books per month currently (one in the US and one in the DE market). The Seller currently focuses on researching which tropes to use for the next book and manages the process of passing the files from one VA to the next until the final product is ready to be published. Amazon KDP handles all the publishing aspects for the business in a fully automated way.
The business includes a large email list containing 16,000 subscribers in Manychat DE, 5500 subscribers in Manychat US, 30,000 subscribers in Mailerlite US, 4,000 subscribers in Mailerlite DE, and 1,500 subscribers in Mailerlite DE for the second pen name. More information will be provided to active depositors.
*The account was suspended for 3 days in August 2015 because of a copyright issue for a non-fiction pen name that the seller was previously using and due to an unreliable ghostwriter. The issue got resolved and the account was reinstated.
*The publishing schedule for 2020 is nearly complete. 12 books for the US and 10 books for the DE market already written and translated plus several covers ready.
Business Created
January, 2017 - (3 years 4 months old)
Assets Included in the Sale
Included in the sale of this business are:
Amazon KDP account - 50 ebooks, 40 physical books
Domain and all site content/files
Email list ( 50K + subscribers )
Facebook account
SOPs
Seller Interview Video
A Useful Insight Into the Business
Earnings
Last Month
6 Months
12 Months
All time
Traffic
Last Month
6 Months
12 Months
All time
Analytical Data
Provided by ahrefs
Opportunities
Expanding into other markets
Publishing new books more often
Utilizing the large email list
Creating audio books
Risks
Amazon shutting down your Kindle account due to terms of service changes
Change in writers, writing styles, or book creation process could impact sales
Work & Skills Required
The Seller currently spends around 12 hours per week:
Running ads on Facebook
Managing a team of 5 freelance VAs
Monitoring analytics
Creating a publishing schedule
Social Media Channels
Seller Support Includes
- The Seller is willing to provide 60 days of email support and a Skype call once per week during that time to ensure a smooth transition. - In-depth video tutorials for all important aspects of the business to teach the new owner step-by-step how everything is done
Reason for Sale
The Seller would like to focus on other business opportunities.
Other Information
Work Required Per Week: 12 Hours
Private Blog Network (PBN): No
Domain Type: .com, .de
Platform: Other
Buyer Profiles
Lifestyle Larry
Excellent for those looking to live a lifestyle of ones choice.
Portfolio Paul
Great for someone looking to diversify their portfolio.
Strategic Sally
Favorable for supporting an already existing business in a similar niche.
Frequently Asked Questions
Answered by the Seller
Recommended Businesses
Based on similar listing criteria
Advertising,Affiliate,Amazon Associates
Amazon Associates,Affiliate,AdSense
Amazon Associates,AdSense
Advertising,Affiliate,Amazon Associates
Amazon Associates,Affiliate,AdSense
Amazon Associates,AdSense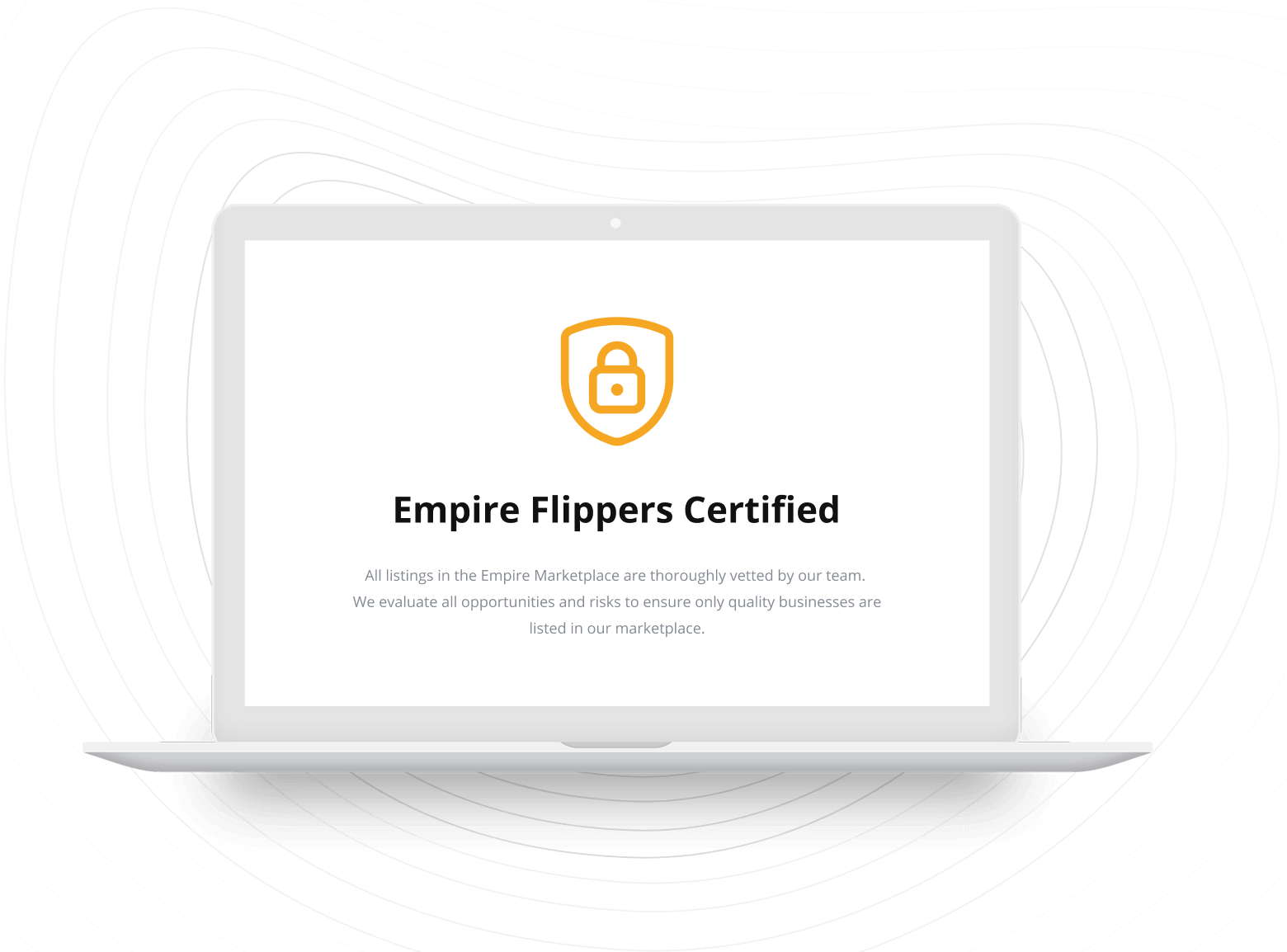 Want to Know When New
Businesses Are For Sale?
Sign up below to get notifications when new listings are available on the Empire Marketplace