You are using an outdated browser. Please upgrade your browser to improve your experience and security.
#48370

Listing Number

$670,543

Listing Price

$29,533

Monthly Revenue

$15,965

Monthly Net Profit

10 Months

Pricing Period

42x

Multiple
Listing Summary
This listing is for a service business created in August 2018 in the business, SEO, and information niches. The business offers a specific writing service and makes recurring revenue through a monthly subscription. Earnings have almost doubled this year compared to last and have remained consistent throughout the life of the business. Because the Seller has set up solid processes and has a large team running almost all areas of operations for the business, minimal effort is required for maintenance.
The online platform is custom-built using programs that do not require coding (Zapier, GDrive, etc.). Two full-time contractors run the day-to-day operations, while 34 freelance writers plus two editorial assistants deliver the service. The majority of customers are subscribed to the standard monthly package, with some enterprise businesses working on an invoice basis.
Growth of the business has largely been due to word-of-mouth referrals and organic search. The business is active on social media and included in the sale are the accounts, along with an email list of 500 subscribers. No paid marketing has been carried out so this could be a potential growth opportunity for a Buyer to consider.
As for the website, traffic comes direct (~46%), organically (~30%), and through social (~12%). The top three countries for traffic are the US (~39%), the UK (~10%), and CA (~5%).
*We've decided to use a 9-month average of net profit for the valuation because we felt that a 12-month average did not accurately represent the current state of the business.
**Learn more about this listing by scrolling down to the FAQ section**
Business Created
August, 2018 - (2 years 2 months old)
Assets Included in the Sale
Included in the sale of this business are:
Primary domain and all site content/files
Additional domain (used for customer reviews)
34 Freelance writers and 2 full time contractors - including employee contracts
Hubspot CRM with all contacts and leads
Project management system (built in Airtable)
Email list (500 subscribers in an Active Campaign account)
Hike SEO, Hubspot, Zapier, and all business related accounts
Monthly social media content (delivered via 100PoundSocial)
Social media accounts (LinkedIn, Facebook, Twitter, Instagram)
Seller Interview Video
A Useful Insight Into the Business
Earnings
Last Month
6 Months
12 Months
All time
Traffic
Last Month
6 Months
12 Months
All time
Analytical Data
Provided by ahrefs
Opportunities
Running paid marketing campaigns
Building agency partnerships
Building a sales team
Growing the email list
Risks
A loss of client relationships could negatively impact earnings
Google algorithmic changes could cause traffic to fluctuate
Work & Skills Required
The Seller currently spends around 10 hours per week:
Coordinating sales
Overseeing management team
Seller Support Includes
The Seller is willing to offer 30 days of email support and 2 Skype calls to ensure a smooth transition of the sale.
Reason for Sale
The Seller would like to focus on other opportunities.
Other Information
Work Required Per Week: 10 Hours
Private Blog Network (PBN): No
Domain Type: .io
Platform: Other
Buyer Profiles
Lifestyle Larry
Excellent for those looking to live a lifestyle of ones choice.
Strategic Sally
Favorable for supporting an already existing business in a similar niche.
Portfolio Paul
Great for someone looking to diversify their portfolio.
Frequently Asked Questions
Answered by the Seller
Recommended Businesses
Based on similar listing criteria
Affiliate,Amazon Associates
Affiliate,Amazon Associates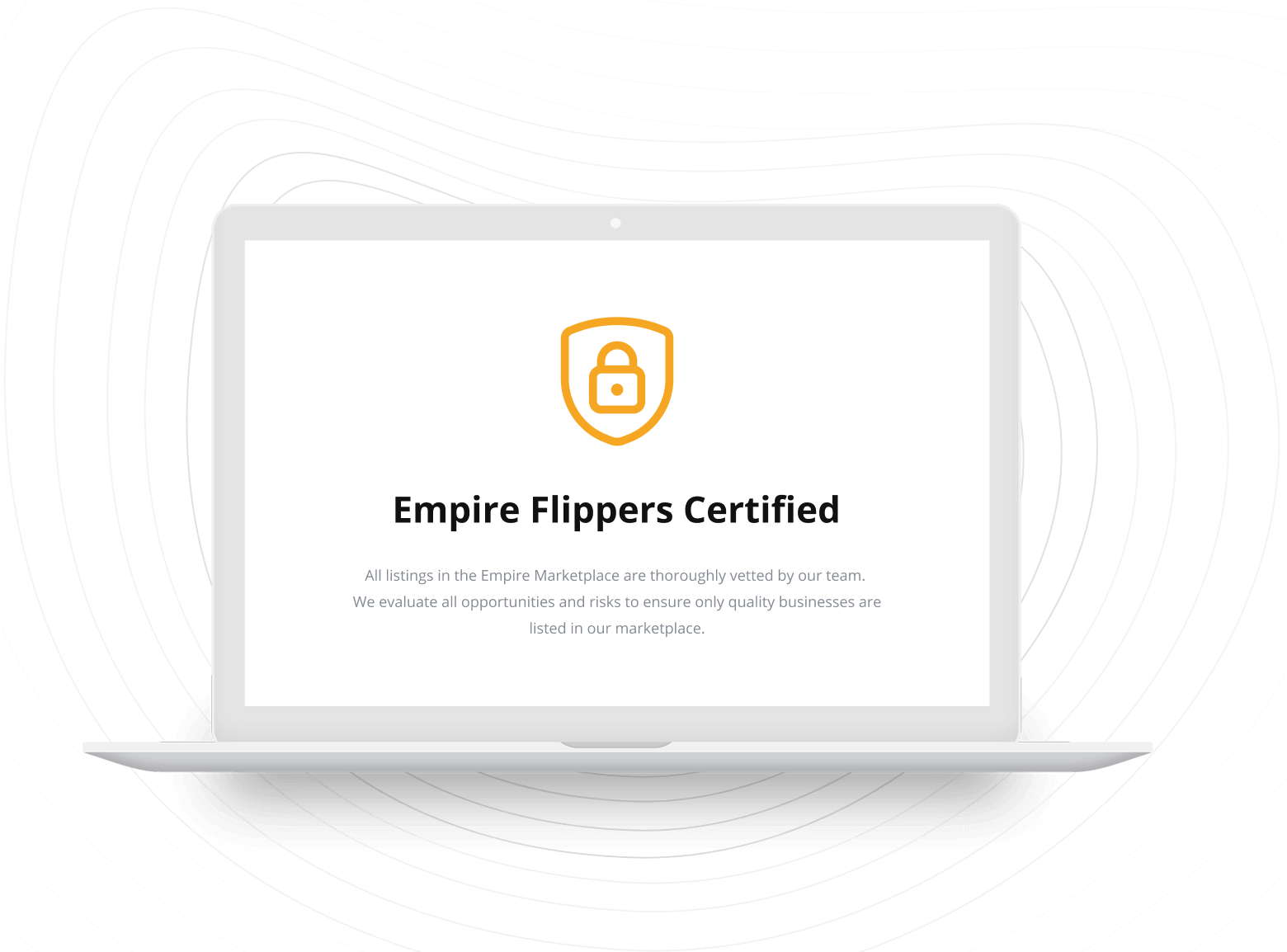 Want to Know When New
Businesses Are For Sale?
Sign up below to get notifications when new listings are available on the Empire Marketplace