You're using an outdated browser. Please upgrade your browser to improve your experience and security.
#47397

Listing Number

$91,354

Listing Price

$14,740

Monthly Revenue

$3,263

Monthly Net Profit

10 Months

Pricing Period

28x

Multiple
Listing Summary
This listing is for an eCommerce and Amazon FBA business created in November 2016 in the apparel and accessories niche. The included Seller Central account features 4 SKUs for accessories for mothers. The trademarked brand is a part of Amazon's Brand Registry 2.0, has an email list of over 22K, and requires minimal work from the Seller to maintain.
This business earns primarily from Shopify (86%) and Amazon FBA (14%). The primary source of traffic is direct (32%), social (20%), affiliates (16%) and organic search (15%). A majority of the site's traffic stems from the US (86%).
There is no blog content added to the site, and the only content regularly updated is the business's Instagram account which is updated with photos taken by a photographer. The business has Instagram, Twitter, Pinterest, and Facebook accounts. The Instagram account is important for organic growth & branding, Facebook is the most important for paid advertising and customer acquisition, and Pinterest and Twitter are not important in terms of traffic. The Seller has used PPC to increase traffic to Amazon listings.
A 3PL in Utah handles and stores all Shopify inventory and Amazon inventory is entirely FBA. The only inventory the Seller handles are damaged returns which seller collects from the 3PL in person and then resells.
The business has one part-time employee who handles customer service inquires. She is aware of the sale and would likely like to continue on with the buyer.
The business has three new products in the prototype stage that are far enough along that they could be launched this year, serving as a growth opportunity for the Buyer to consider.
Business Created
November, 2016 - (3 years 6 months old)
Assets Included in the Sale
Included in the sale of this business are:
Amazon seller central account - 4 SKUs
Domain and all site content/files
Email list (22,152 subscribers)
Trademark
Social Media (Facebook, Twitter, Pinterest)
*Inventory is not normally included in the list price, further details can be provided to active buyers.
Seller Interview Video
A Useful Insight Into the Business
Earnings
Last Month
6 Months
12 Months
All time
Traffic
Last Month
6 Months
12 Months
All time
Analytical Data
Provided by ahrefs
Opportunities
Utilizing more influencer marketing
Expanding to retail and small boutiques
Rolling out new products and add-on accessories
Risks
E-commerce businesses can be negatively impacted by an increase in cost of goods (COGS) from the manufacturer.
New competition to the space could drive ad prices up leading to be unprofitable.
Work & Skills Required
The Seller currently spends around 10 hours per week:
Managing Facebook and Amazon ads
Finding new influencers and maintaining social media accounts
Marketing via email list
Monitoring inventory levels
Seller Support Includes
The Seller is offering 5 hours per week in any form of remote communication for the first month after the sale. For the following 5 months, the Seller can dedicate an average of 5 hours per month in any form of remote communication to ease the transition of the business to the Buyer.
Reason for Sale
The Seller has another brand that is taking up more of their time and would like to focus on this brand within a different niche.
Other Information
Work Required Per Week: 10 Hours
Private Blog Network (PBN): No
Domain Type: .com
Platform: Shopify, Amazon FBA
Buyer Profiles
Flipper Fred
Ideal for buying and then selling on quickly after growing the business.
Lifestyle Larry
Excellent for those looking to live a lifestyle of ones choice.
Frequently Asked Questions
Answered by the Seller
Recommended Businesses
Based on similar listing criteria
Advertising,Affiliate,Amazon Associates
DropShipping,Amazon FBA,eCommerce
Advertising,Affiliate,Amazon Associates
DropShipping,Amazon FBA,eCommerce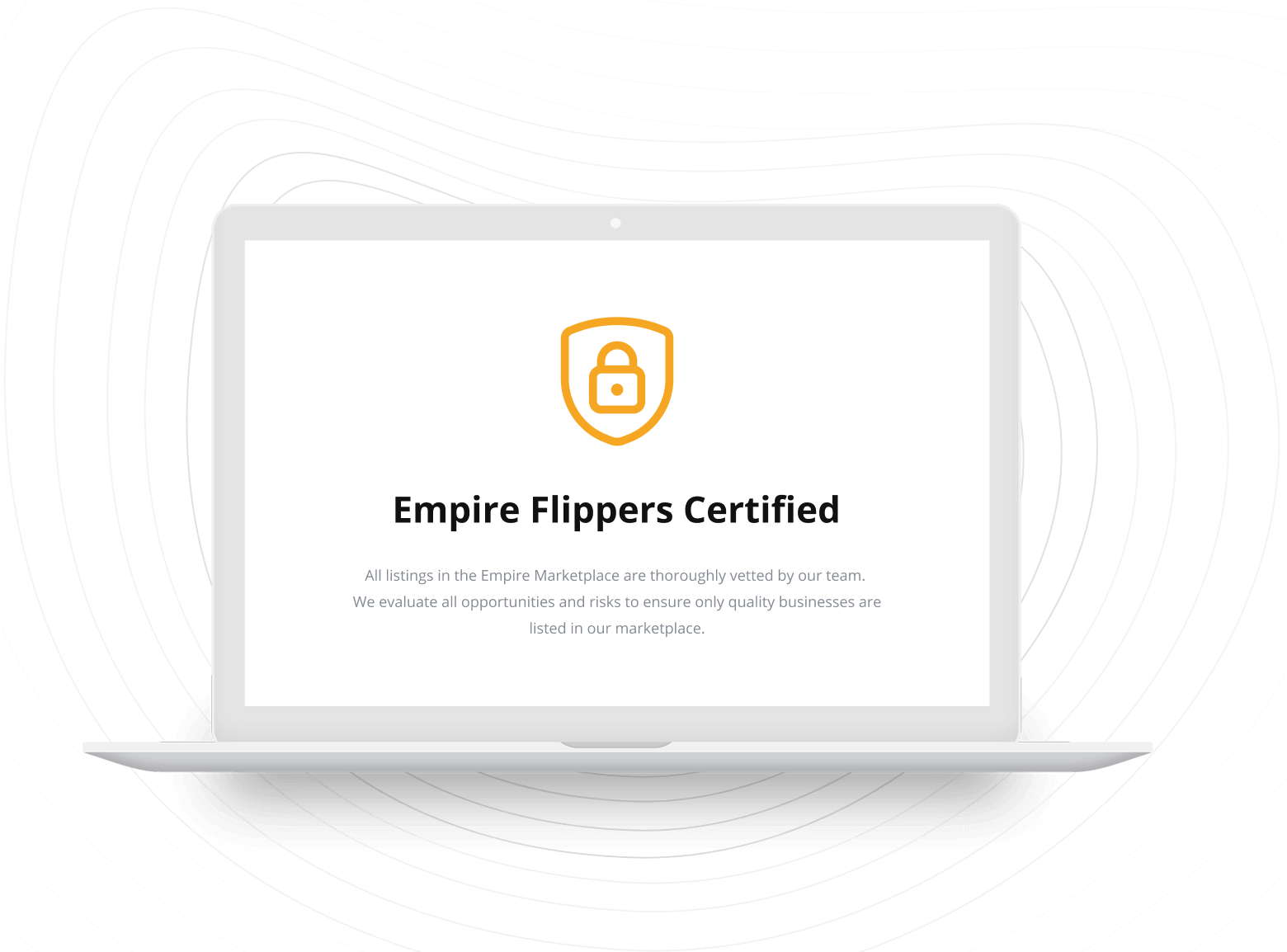 Want to Know When New
Businesses Are For Sale?
Sign up below to get notifications when new listings are available on the Empire Marketplace