You're using an outdated browser. Please upgrade your browser to improve your experience and security.
#46718

Listing Number

$223,919

Listing Price

$8,468

Monthly Revenue

$4,868

Monthly Net Profit

12 Months

Pricing Period

46x

Multiple
Listing Summary
This listing is for a SaaS business created in April 2017 in the technology niche. The platform provides various professionals with assistance in gaining clients. The business features stable MRR, high retention rates, an email list of 20K, and requires minimal work from the Seller.
The primary source of traffic is direct search (63%), followed by organic (17%), and referral (15%). The country responsible for the most traffic is the US, which drives about 93% of traffic. There has been a drop in traffic since stopping direct email marketing, so this would be an ideal area for growth for the Buyer to consider.
The business boasts an active email list of 20,000 subscribers who are emailed periodically about the business's services. The email list is segmented so they are targeted with services in relation to their needs. The business does not have active social media accounts, another growth opportunity for the Buyer to explore.
New customers are primarily acquired through referral, reverse searching lists of professionals who are in need of this particular service, and email marketing to them.
Most of the work is divided between the Seller and a partner. The business runs relatively low maintenance with the Seller handling demos, sales, and interfacing with customers. The partner handles updates or any fixes that may be needed for the product. The two partners only spend 2 hours per week on the business and more information will be provided to active depositors.
Business Created
April, 2017 - (3 years 4 months old)
Assets Included in the Sale
Included in the sale of this business are:
Domain and all site content/files
Email list
SOPs
Supplier contracts/relationships
Seller Interview Video
A Useful Insight Into the Business
Earnings
Last Month
6 Months
12 Months
All time
Traffic
Last Month
6 Months
12 Months
All time
Analytical Data
Provided by ahrefs
Opportunities
Expanding offers to related customers
Growing email marketing campaigns
Creating social media accounts
Risks
Google algorithmic changes could cause traffic to fluctuate.
Due to constant changes in technology, competition and the market as a whole, the software could become irrelevant
Work & Skills Required
The Seller currently spends around 2 hours per week:
Running sales demos
Responding to customer emails
Updating and fixing software as needed
Seller Support Includes
The Seller is willing to provide 60 days of email support and two Skype calls.
Reason for Sale
The Seller and partners would like to focus on other opportunities and believe the business could be better scaled with the right Buyer.
Other Information
Work Required Per Week: 2 Hours
Private Blog Network (PBN): No
Domain Type: .com
Platform: Other
Buyer Profiles
Flipper Fred
Ideal for buying and then selling on quickly after growing the business.
Lifestyle Larry
Excellent for those looking to live a lifestyle of ones choice.
Strategic Sally
Favorable for supporting an already existing business in a similar niche.
Portfolio Paul
Great for someone looking to diversify their portfolio.
Frequently Asked Questions
Answered by the Seller
Recommended Businesses
Based on similar listing criteria
Other,Display Advertising
Other,Display Advertising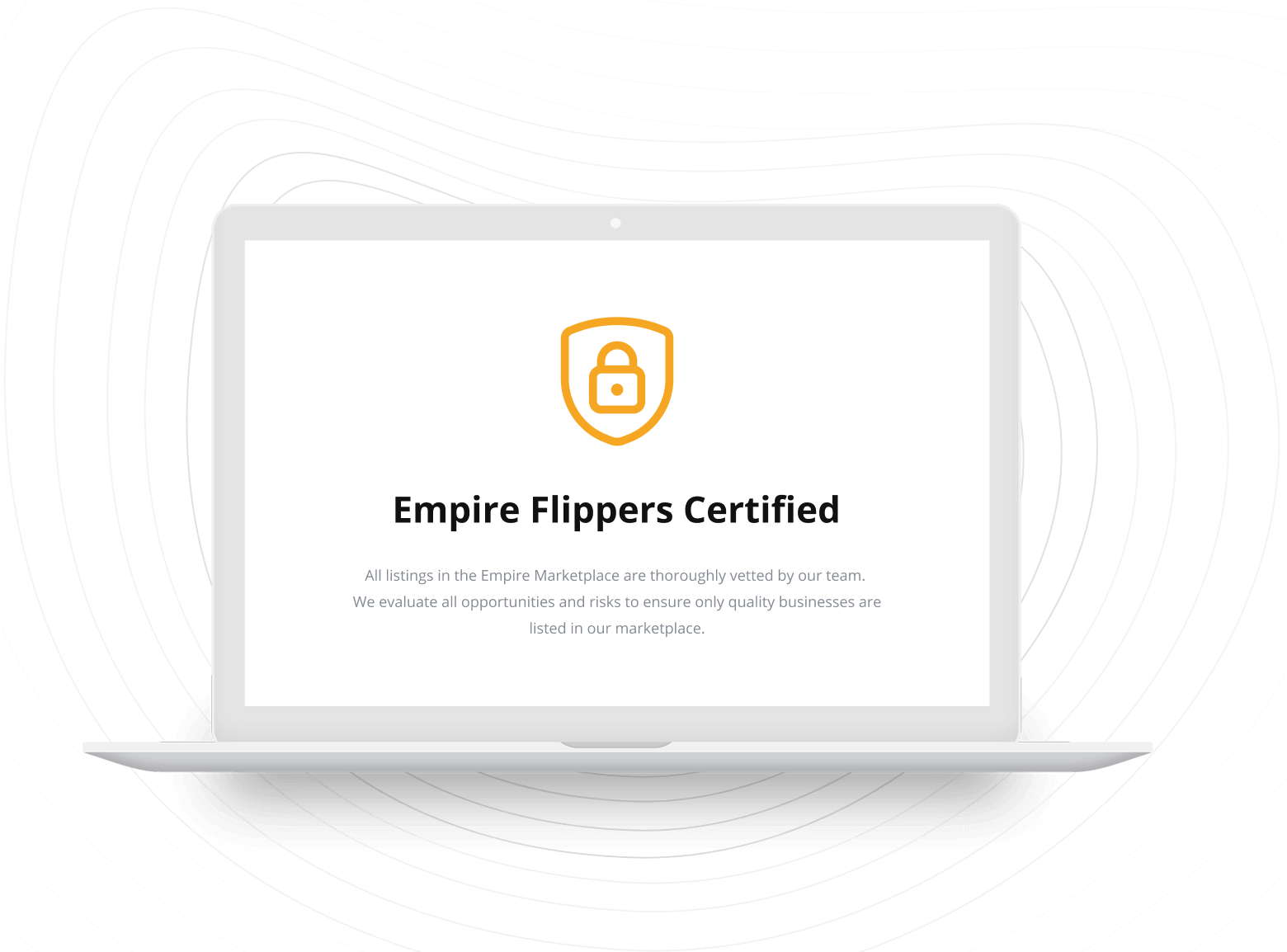 Want to Know When New
Businesses Are For Sale?
Sign up below to get notifications when new listings are available on the Empire Marketplace