You're using an outdated browser. Please upgrade your browser to improve your experience and security.
#46490

Listing Number

$915,204

Listing Price

$124,977

Monthly Revenue

$30,507

Monthly Net Profit

12 Months

Pricing Period

30x

Multiple
Listing Summary
This listing is for a dropshipping and eCommerce business created in October 2016 in the apparel & accessories niche. The Shopify store features a large collection of luxury apparel and the business recently received an award for best online luxury menswear retailer 2019. Due to a third party service provider fulfilling orders, and a part-time VA managing dropshipped orders using Dropified, the Seller spends about 15 hours per week maintaining the business.
The majority of traffic to the business comes from the UK (69.8%) the US (20.8%) and Sweden (0.7%) with the traffic source stemming from paid search (39.9%) social media (12.6%) Direct (10.7%) and other (21.3%). The business used the service of a content management provider in the past but has recently relied on customers produced content for social media posts. Facebook (50K likes) and Instagram (10K followers) offer the largest contributors to social with Twitter having little to no impact in terms of traffic.
The primary revenue source for the business is dropshipping (90%) and eCommerce (10%) with some inventory being held in a warehouse located in the UK, and all stock orders fulfilled by a third party service. This service is also used for the management of three factory suppliers located in China and all logistics for the stock items of the business. One VA handles all orders with the help of Dropified, while also managing the customer service inquiries from their customers.
The business had reduced their email list from 40K to 17.4K to remain GDRP compliant with a double opt-in requirement which was very important to them considering the amount of traffic that stems from the UK. There is some slight seasonality for the business with more individual orders coming in during the colder months, and bulk orders fulfilled during the summer months.
*With respect to April's loss, the Seller was on holiday that month and the management of marketing/promotion had slipped drastically. Since this time the business has regained revenue stability. More information will be provided to active depositors.
Business Created
October, 2016 - (3 years 7 months old)
Assets Included in the Sale
Included in the sale of this business are:
Domain and all related site content/files
Social media accounts ( Facebook, Instagram, Twitter )
All business related accounts ( Dropified, Klaviyo, Manychat, PushOwl, +more )
Email list ( 17.4K subscribers all GDPR compliant )
* Inventory is not normally included in the list price, further details can be provided to active depositors.
Earnings
Last Month
6 Months
12 Months
All time
Traffic
Last Month
6 Months
12 Months
All time
Analytical Data
Provided by ahrefs
Opportunities
Producing video content for products
Performing on-site, advertising, and email CRO
Expanding into other markets
Risks
An increase in Google and Facebook ad pricing could make the ads unprofitable.
Dropshipping businesses can be negatively impacted by an increase in cost of goods (COGS) from the manufacturer.
Work & Skills Required
The Seller currently spends around 15 hours per week:
Website management
Adding additional products
Optimizing Google and Facebook ads
Managing VAs daily operations
Monitoring 3rd party fulfillment company
Social Media Channels
Seller Support Includes
The Seller is willing to provide 30 days of email and Skype support to ensure a smooth transition.
Reason for Sale
The Seller is looking to use this capital to invest in a real estate opportunity.
Other Information
Work Required Per Week: 15 Hours
Private Blog Network (PBN): No
Domain Type: .co
Platform: Shopify
Buyer Profiles
Lifestyle Larry
Excellent for those looking to live a lifestyle of ones choice.
Portfolio Paul
Great for someone looking to diversify their portfolio.
Frequently Asked Questions
Answered by the Seller
Recommended Businesses
Based on similar listing criteria
Advertising,Amazon Associates
Affiliate,Amazon Associates
Advertising,Amazon Associates
Affiliate,Amazon Associates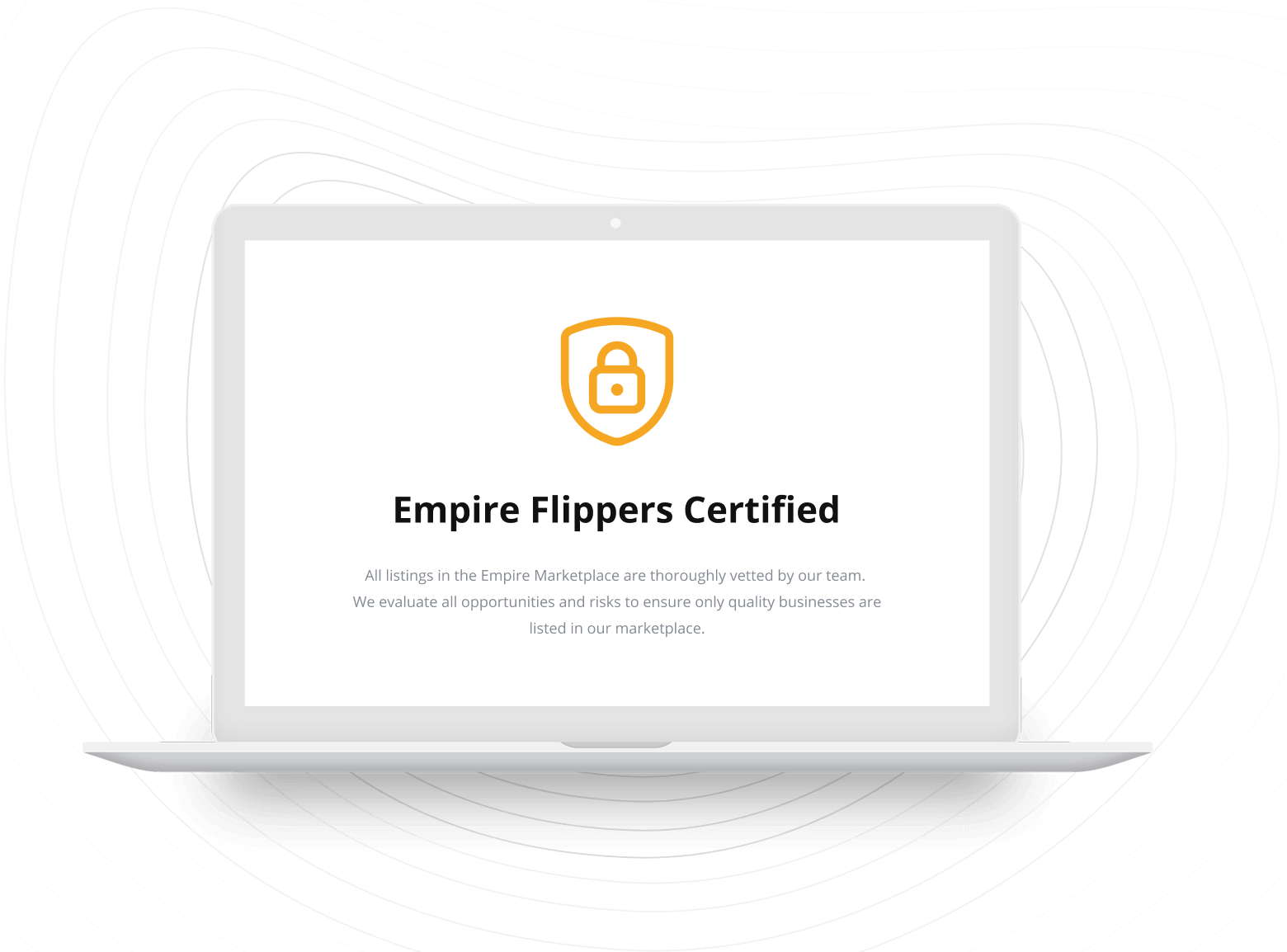 Want to Know When New
Businesses Are For Sale?
Sign up below to get notifications when new listings are available on the Empire Marketplace